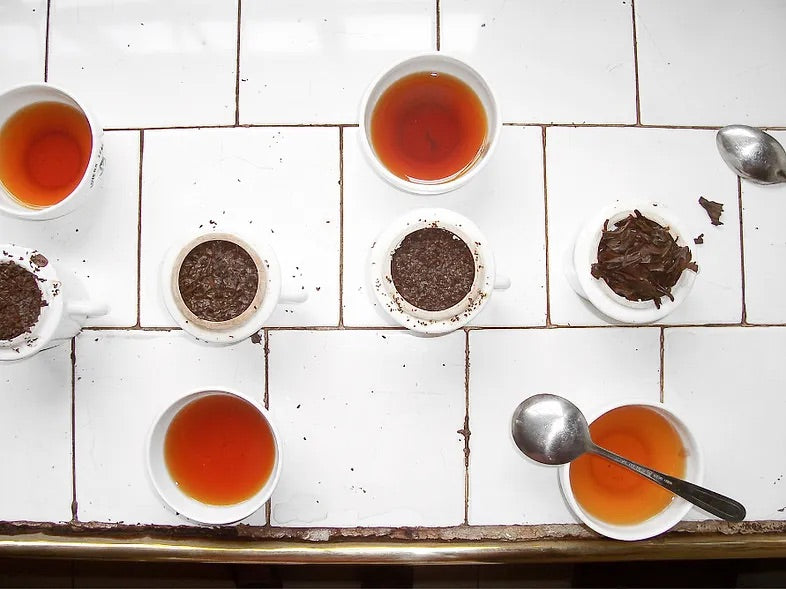 A critical element of producing quality tea is quality tasting!
Tea tasting is a process of evaluating the various quality parameters of the tea leaf's appearance as well as the brew.
The leaf's appearance test can be categorised into the shape of the leaf, the colour of the leaf, the presence or absence of tea buds and the texture of the leaf.
The state of the leaves is crucial, as full leaves are generally considered superior to broken ones. Additionally, the presence of a significant number of golden or silvery tips (tea leaf buds) serves as an indicator of quality. If the colour of the tea leaves is varied, then it could be that the tea is a blend of two or more types. A desirable loose-leaf tea will exhibit a crunchy texture, signalling that it has not absorbed excess moisture from the surrounding air during storage and shipping.
In tea tasting, we use many of our senses — particularly taste and smell — to identify and distinguish the different characteristics of tea. We also use the sense of sight to look at the tea leaf before and after it is brewed for qualitative parameters.
In the tea factory, tea tasting is done by the tea master and the factory manager, at regular intervals throughout the day.
Here are some tips to conduct your own tea tasting at home:
Start by choosing what type of tea you want to taste, such as oolong, herbal, green, black, or white.
Have hot water at hand, preferably in an electric kettle with a temperature meter, a stopwatch if you want to be precise, a few sets of tasting cups and bowls and a notepad to jot down your tasting notes.
If you are planning on tasting a variety of tea types in one sitting, start with the white tea and gradually move towards the darker teas, like puerh and black/red tea.
Observe the tea leaf appearance as mentioned in the earlier section.
Prepare the tea according to the brewing instructions, including the correct temperature for the type of tea, and steeping the tea for the recommended time.
Really observe the brewed tea's appearance, including colour, clarity, and viscosity (richness of texture). See if you notice any variations in consistency or colour.
Take a deep breath and really smell the tea, inhaling its aroma and noticing any subtle or not-so-subtle scents. Watch out for any inorganic aromas such as taints from chemicals.
The best part — taste the tea! Slurp and sip — being loud while you do this part of the tasting is expected and not looked down on. That way you can take in air into your mouth to activate the flavours more. Really savour the tea in your mouth and swirl it around your whole mouth including your palate. Note the tea's flavour — is it sweet, bitter, bland or something else? What about its astringency (acidity/sharpness)? What else do you notice? Also, consider the texture and mouthfeel of the tea.
Note the aftertaste — do you notice any lingering sensations or flavours when you swallow at the back of your throat?
A good tea master goes through this process every hour during the production period, and to avoid getting tea drunk (yes, there is such a thing!) they do not swallow the tea. Instead, they use a spittoon. You can also choose to rinse your mouth with water or plain bread between tea varieties to cleanse your palate.
Now you're ready to move on to your next tea variety!
Tea tasting allows you to appreciate and evaluate the various characteristics and flavours of different teas.
Taking notes and comparing the different types of teas can be a fun way to discover your preferences. And you might even learn something along the way!
The Tea Tasting Experience in Australia
Australia has a thriving tea culture, and there are some gorgeous tea-tasting places across the country and around the world. Tea tasting can be a fun and educational way to explore the different aromas and flavours of teas and discover new teas to enjoy. Listed below are a few of our favourites in the major cities of Australia. These tea bars will give you an authentic tea-tasting experience, not necessarily a high-tea experience:
Melbourne: Yugen Tea Bar, 605 Chapel Street South Yarra, VIC.
Sydney: Ms Cattea's Tea Bar, 17/1–21 Darlinghurst Rd, Potts Point, NSW.
Adelaide: T Bar, U5/65 Stephens Ave, Torrensville, SA.
Hobart: A Moment of Tea, 77 Salamanca Pl, Battery Point, TAS.
Brisbane: Tour de Tea., Shop B/88 Merthyr Rd, New Farm, QLD.
Beyond our major cities, there are many tea rooms we have had the pleasure of visiting around the country and some of them were right out of tea heaven. Or why not invite some friends and family around and organise your own fun tea-tasting experience at home? You now have the toolkit to host one right at home!
Rujani Tea's Ultimate Tea Tasting Experience Pack
Rujani Tea is proud to offer an extensive range of delicious teas, including signature teas, award winners, and infusions and blends. We've even packaged together an Ultimate Tea Tasting Experience Pack with tea tastings in mind. If you would like to sample a set of our award-winning teas, you can start with this experience pack, which featured some of our bestselling teas direct from our farm in India. The pack gives you the perfect tasting experience to explore the various flavours, tastes, and aromas of our truly delicious teas.
Our Rujani Tea gift cards start at just $10 and don't have an expiry date. They offer choice and flexibility and can be a fantastic way to encourage tea tastings amongst your friends and family members! Why not have your own Rujani tea tasting and offer Rujani gift cards to your attendees as a small thank you? What a fantastic and memorable way to introduce your guests to Rujani and discover all the delicious Rujani teas available.
Enjoy your cuppa!
Tea is one of the most beloved and versatile drinks in the world. With a rich history dating back thousands of years, tea has captured the hearts and minds of people of all ages, backgrounds, and c...
Read more