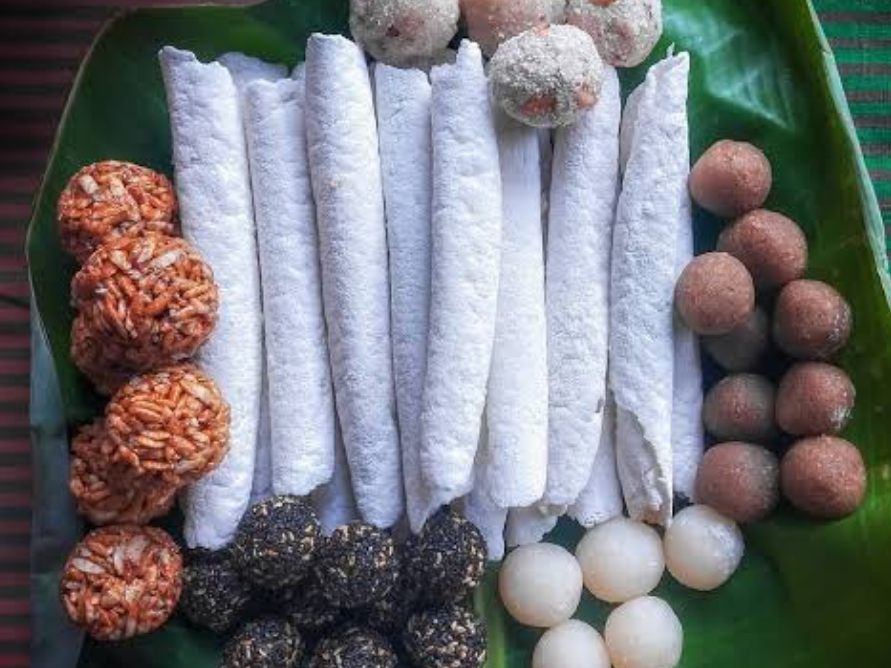 Gluten free tea-pairing snack from Assam
"Til Pitha" - a delicious snack to form a duet with black tea, and oh it's GLUTEN-FREE!!!
These rice-flour rolled pancakes are stuffed with ground black sesame seeds mixed in jaggery. 'Til' is Assamese for sesame and 'pitha' means rice cake or pancake. Cooked over a hot griddle, the outer shell of this delicacy is crispy, while the sesame + jaggery filling is mildly sweet and gooey. The shell is made from pounded glutinous/sticky rice called "Bora Saul" which is locally grown in Assam.
This snack is served to friends and family as a gesture of love and community, during the Bihu festive season and otherwise as an accompaniment with black tea. It is the festive season in Assam this weekend, so try making some of these drool-worthy "Til-Pitha" and serve it with black tea to your friends and family - it is sure to wow them. Imagine pairing black tea or chai with a crispy, chewy gluten-free snack!!!
Assam, is not just about teas and one-horned rhinos. It is also a home to a multitude of wholesome food which are healthy and easy on the gut. Assamese cuisine often makes use of locally grown rice for various recipes. This is another age-old traditional delicacy of the region.
Although made from only 3 simple ingredients - rice flour, black sesame (til) seeds and jaggery, making these rice pancakes is an art that comes with practice. 
You can pair it with a piping cup of Assam black tea, milk tea or Chai. Tastes heavenly!
Ingredients :
Glutinous Rice / Bora Saul  : 3 cups

Jaggery/ Gur powder : 200 grams

Black Sesame Seeds / Til : 150 grams

Water as required
Method : 
Soak the rice in around 6 cups of water for 6-7 hours. 

Drain the water and let the rice be semi-dry. Make sure to not make it completely dry.

Grind the rice to a fine flour. Take your time to grind, ensure that the rice doesn't get too hot while grinding or else the stickiness of the glutinous rice will reduce and the roll would fall apart. 

Dry roast the sesame seeds in a pan for 3-4 minutes. Grind it into a rough powder and mix it with the jaggery powder.

Heat an iron tawa or griddle and spread the prepared rice flour over it like a pancake. Top it up with a generous amount of stuffing. As soon as the rice flour gets firm, fold it into a roll. Turn it over and heat it lightly before taking it off from the fire. 

Make sure you handle the pithas with utmost care as these delicacies are fragile. Store it in an air tight container to retain its crispiness.  
Serve hot off the gridle along with a cup of tea, and relish this awesome guilt-free snack anytime of the day!
Enjoy your cuppa! Happy Bihu!